About
We are a team of Multi Award Winning Furniture Designers and Makers based in Sheffield, UK.
All of our work is Handcrafted and made by us, in our workshop in Sheffield. We have spent the time researching our materials and perfecting our processes, we love to work with clients who want outstanding and unique pieces of furniture.
We have designed and made furniture for museums, galleries, universities and private clients nationwide.
We specialise in Dining Room and Board Room Tables, Birch Plywood Cabinetry and Bespoke Kitchens. We will work with you to understand what it is you need from the piece or collection of furniture.
It may be extra storage for the home, a beautiful Handmade Kitchen using locally sourced hardwood, or cabinetry to display your collection of records and fancy music equipment or a table to fit that extra 4 family members who need a place to sit on Christmas Day.
We work on a commission basis to design and build the perfect piece of handcrafted and lovingly made furniture to suit you and your home.
We work with a vast range of materials and processes, utilising some of the latest 3D CAD packages along with a fully equipped workshop to produce our projects in. The timber we choose ranges from Native British hardwoods milled locally and air dried, all boards having been selected for their uniqueness and beauty. Right through to American Black Walnut for its rich and deep texture, to Birch Plywood for its great properties in cabinetmaking and subtle pale grain patterns.
We own and operate a state of the art 8 x 4 ft CNC router machine which we use to cut sheet materials and machine 2D & 3D parts for our projects.
We are confident that we can deliver perfect quality furniture to suit your needs every time, please take a look at our work and get in touch to discuss your next beautiful piece of furniture.
For CNC work please visit our sister company CutHouse where we can provide a full service B2B cutting service in a host of sheet materials.
Ollie Allen - Director
After studying Furniture Design at Sheffield Hallam University, Ollie carved a career for himself by following his passion. This path has involved property development and product design, but now firmly sits focused on producing outstanding bespoke furniture.
With a long term fascination for creating, imagining and developing furniture and products for the home, Ollie has built a workshop packed with tools and new technology to help realise these ideas.
Ollie was voted Young Tradesperson of the Year 2017 and Carpenter of the Year 2017.
In 2018 he received a Civic Award from the Lord Mayor of Sheffield.
Ollie lives in the Peak District a few minutes drive from the leafy city of Sheffield, with his Award Winning Wife in the form of Jewellery Designer Jessica Flinn. He is a proud Dad to two amazing children and the family Dog, Moss the Border Collie.
Ollie is often found in the workshop, covered in sawdust with a head full of ideas. Typically joined by his faithful sidekick Moss, tennis ball in mouth ready to help.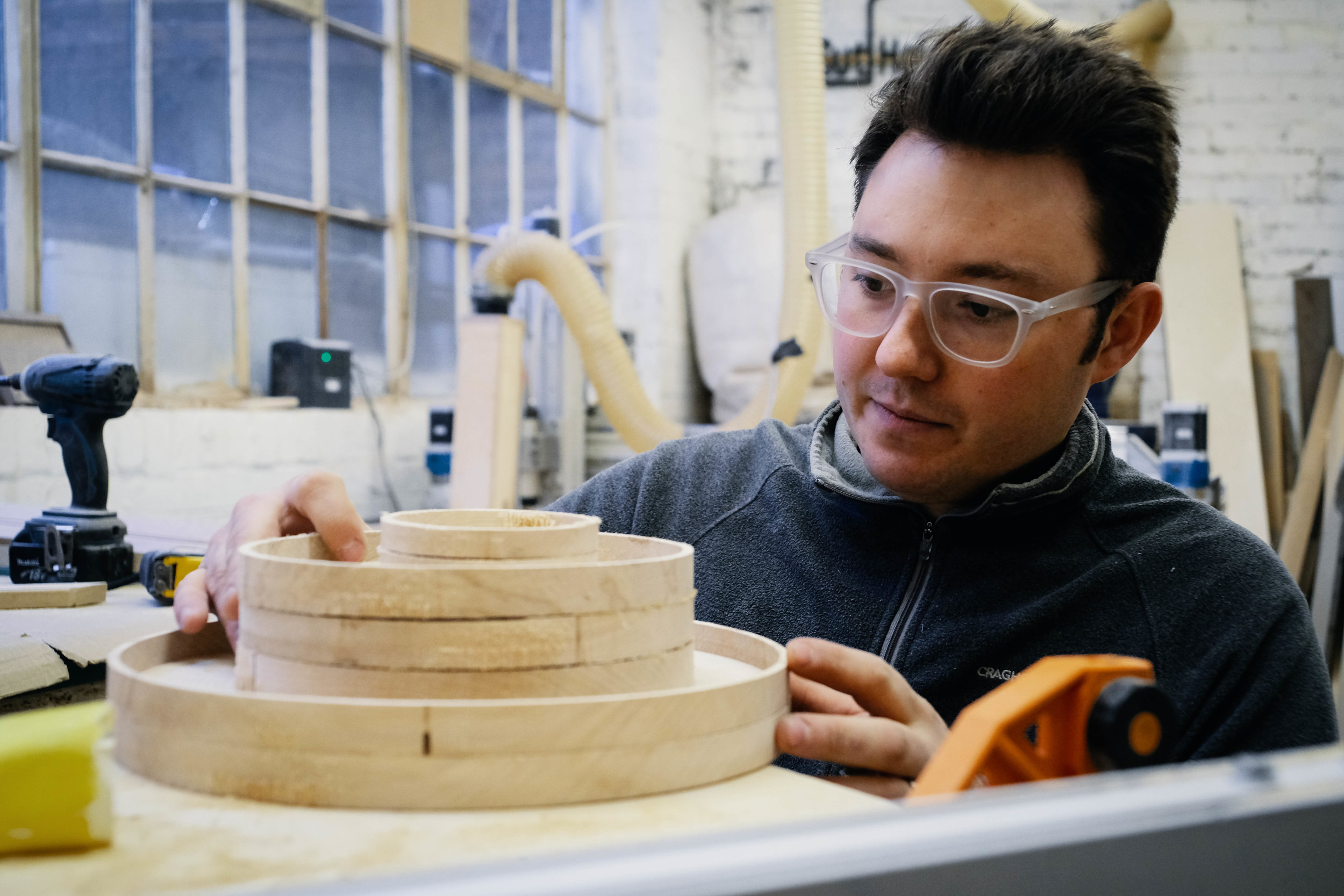 Craftsmen and Partners
We have our own in house team of skilled cabinet makers and craftsmen who work alongside Ollie to complete our projects.
Together we span the disciplines of Art, Jewellery, Industrial Design, Welding, Fabrication, Engineering, Forestry, Interior Design, Digital Manufacturing and Traditional Cabinetmaking.